At the most easterly point of mainland Australia, nestled beneath the imposing peak of mount Warning, or the rain-maker as the Aboriginal people once called it, sits the colourful little town of Byron Bay. Famous as Australia's Hippy capital, Byron Bay has been attracting backpackers from across the globe for generations, and its not hard to see why. Byron Bay boasts four pristine beaches, with golden sands and clear, turquoise waters, literally swimming with marine life, including Stingrays, Barramundi, Turtles and even Dolphins.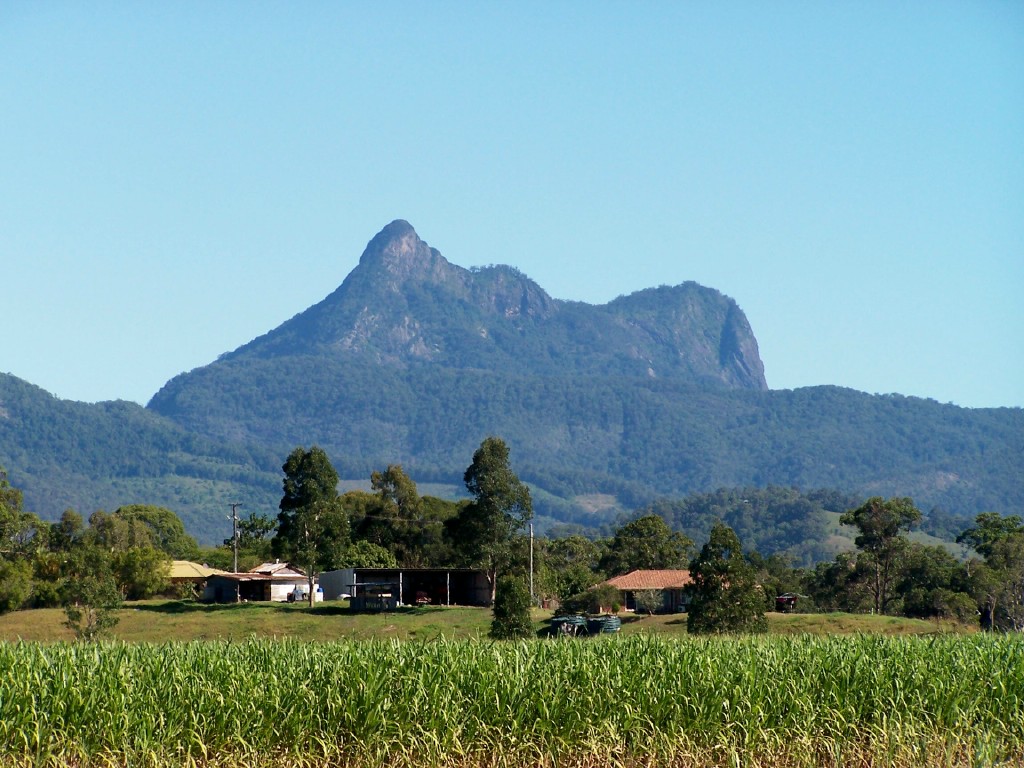 Mount Warning
Unlike Australia's other big tourist hotspots, Byron Bay remains relatively undeveloped, its uncrowded beaches are surrounded by sand dunes and forests rather than skyscrapers and shopping centres. In fact, the beaches and parks of Byron Bay are so unspoiled they are home to Water Dragons, Goanas, Kookaburras and even two types of Snake. As well as being a home to wildlife both in and out the water, Byron Bay is can boast some of the most reliable surf in Australia. Despite its immense popularity, Byron Bay has managed to remain relatively unspoiled, even though its neighbour to the north, the Gold Coast can only be described as Australia's answer to Benidorm, only bigger. Byron Bay in contrast, has done something magnificent, it has somehow retained its unique charm, its streets bustle with weird and wonderful people, eccentric shop fronts decorate the town making it quite different to any other homogenised town you expect to find in this globalised world of ours. Byron Bay also has a refreshing cosmopolitan feel about it, at night the CBD comes alive with pubs and clubs, many showcasing the town's vibrant music scene by playing live music every night and staying open well into the early hours.
Although it may just be a small town, Byron Bay offers some of the best dining Australia has to offer outside of Melbourne. The food in Byron Bay is fresh and tasty, this being quite a rarity for Australia generally, restaurants from across the globe compete ferociously to get you through their doors. Every Sunday morning, in the town of Bangalow, 10 miles to the west of Byron Bay, there is a huge car boot sale, but unlike one of its British counterparts, its a must visit! Firstly because of the drive there, the road to Bangalow twists and turns as it goes over the rolling hills of northern New South Wales and early in the morning the valleys are shrouded in mist, making the drive one of the Worlds most beautiful car boot runs. When you arrive at the Bangalow market you will be overwhelmed by the vast array of stalls spreading out into the distance in every direction, filled with pointless curios, antiques, everything an ageing hippie would ever need and much much more. No trip to Byron Bay is complete without a trip to its famous lighthouse, standing at the tip of Cape Byron, the Lighthouse stands east of almost everything and has the best views of Byron Bay and the country beyond. Anyone planning on visiting Australia simply has to visit this eccentric little town in northern New South Wales, it truly is a highlight in any trip down under.
Bangalow, a Short Drive from Byron Bay and well worth a Visit