For twelve years, James Philip Jardim Spencer Mumford (Yes, those
are
all
his
names)
served the community of Teddington, in the London Borough of Richmond upon Thames. He was a rising star in the Liberal Democratic Party, standing shoulder to shoulder with local Lib Dem idols such as Cllr Liz Jaeger, Susan Kramer MP and everyone's favourite Business Secretary, Vincent Cable.
Former Teddington Councilor, Turned Squatter, James Mumford


Oh yes, when first elected in 1998, life was going pretty well for former Kew Gardens, Botanical Buff, James Mumford. Campaigning for more affordable homes on Greenfield sites such as Chase Village Green in Whitton (despite claiming to be an environmentalist) or making sure that Richmond Borough was a haven for religious zealots (Mumford being a huge fan of Anjem Choudary and Islamic Fundamentalism). James Mumford fought against the bureaucratic machine to get his own way, even if that meant trying to get Council Workers Sacked for doing their job. Mumford was a man who enjoyed having power, using his position to learn how to play a fundamentally broken, British Welfare system.
Friend of James Mumford, Anjem (Andy to his Friends) Choudary. I wonder what Anjem would make of Mumford's Homosexuality?
Despite being classically educated at public school (In the UK, public school means private school, weird eh?) and speaking fluent Latin, Mumford, 44, was never able to make anything of his life. Despite being elected to the prestigious, Richmond Upon Thames council, Mumford was a shadowy man, with skeletons in the cupboard.
Mumford, a self confessed drug addict, started to accumulate massive debt while studying classics at Cardiff University. Abusing the limits of his various credit cards, Mumford would buy thousands upon thousands of CD's, creating, what he called, "the greatest music collection north of hell". After Leaving University, Mumford spent his time, scrounging on Benefits with his boyfriend Timothy (Tim to his friends) Dark and driving to secret raves where he fell in love with ecstasy and heroin.
James Mumford with some of his Victims
Continuing to run up huge debts before moving on to a new town, Mumford and Dark soon found themselves in sleepy Teddington. Mumford sensing an opportunity for easy money, joined his local Liberal Democrats, and before you could say
llqpqwoiedozxbzvuchghthtiptkpkkpdddsjbwkweweewgoxzzpqwqqwshgogogogogogo,
he was elected to Richmond Upon Thames Council.
As Usual, Cllr James Mumford is in a Spot of Trouble with the Police
However, despite his new found employment and air of respectability, Mumford continued to cheat the welfare state; claiming thousands of pounds in housing benefit while serving the very body he was conning. He ran up huge arrears at his Teddington address (Pocketing the Benefit) before being kicked out by Court Bailiffs.
If you're still reading this, good on you, its only one corrupt local councillor but James Mumford represents an endemic problem with today's politicians. They are lying, manipulative, out of touch, self serving and abhorrent members of our society. The honourable statesman is a rare creature that may appear but once in a generation, but crooks on Mumfords level I fear are all too common.
The River Thames at Teddington Loch. The Good people of Teddington need to be careful never to elect a conman like James Mumford again.
Yet there is more depravity up the sleeve of Cllr James Philip Jardim Spencer Mumford. After leaving Teddington, Mumford approached an unsuspecting family in Twickenham, who were leaving the country for a few years and were looking for a single tenant for their house; a respectable person who could look after their many pets in their absence. Lying Mumford (A man who hated animals) put himself forward as the perfect tenant, bagging a place to live with nominal rent.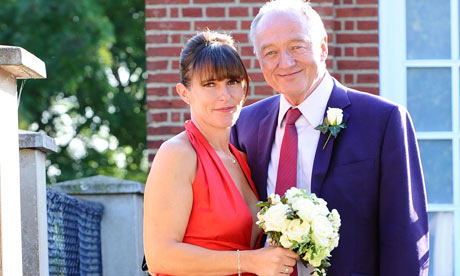 Richmond upon Thames Councilor James Mumford, Claims to have turned down a Threesome offer from former London Mayor, Ken Livingstone.Mumford However is a notorious liar, so we here at the Generic Travel Blog don't believe it for a second! You rule Ken!
But as soon as he arrived, he began subletting the property to long term lover, Timothy Dark, and an as of yet, unnamed woman. Mumford, whose claim to fame is reportedly having turned down a Threesome offer from former London Mayor, Ken Livingstone (We don't believe that for a second. Ken Livingstone was a fantastic Mayor, although Boris is good for a laugh), then sank even lower. Faking Illness, he then set about squatting in the Twickenham residence for over a year, allowing bills to go unpaid, dogs to go unfed and making enemies of all his neighbours. It wasn't until October of this year, that the home-owners, back from Brazil got their house back after four months of homelessness.
And that's another story!
All the facts in this article are true, however I do not pretend to be unbiased, this serial conman was my local councilor for 12 years and I know the family he stole thousands of pounds from personally. My Sources are reliable. However, my sources tell me that Mumford is not to be trusted, therefore, as many of the facts come straight from the horses mouth, you may want to disregard them. I Sammy Corfield am not responsible for anything you may believe due to this article. I say this as I don't want to be sued. Also, I like gay people, not romantically, in the sense that if 2 gay people get married, I call it marriage, none of that Civil Union bollocks. Also, although I may have voted for Winston McKenzie in the last London Mayorals, I have the utmost respect for Ken, he built skyscrapers!